Conquering Feelings of Being Left Out ~ Kratu The Therapy Dog On Building Resilience In Children and Teens
how to conquer loneliness and feelings of being left out by building resilience in children and teens
It's a topic we can all relate to: Feeling left out in social circles. Whether you're an adult or child, feelings of not belonging can be painful. Because of this, we are so grateful to our friends Kratu the Therapy and Rescue Dog and his mum Tess, for sharing their thoughts on this topic, which includes ways you can overcome these feelings, build resilience and work on positive self-concept.
This is our second piece from Kratu and Tess to help in our mission of building strong, peaceful, resilient hearts through the magic of being here. We are forever grateful to them and know you'll enjoy!
building resilience: find the things you enjoy, and focus on what you're good at
If you can learn one thing… that's not to worry about what others think as you can't change them. Don't take onboard negativity from others. You can only look to yourself, do the best you can and be happy with yourself as you do your best.
My mum struggles with this. She is Autistic. So some things like training dogs she is very good at. Some things like communicating with certain people she is not good at. So she focuses on the things that she is good at. The right people do come along not always when we want them, but doing different things and hobbies gives us a chance to find the friends that are more similar to how we are. Find the things that you enjoy and do them. We are responsible for our own happiness. So do the happy things you love the most and enjoy doing them!
We cannot change others. When they decide to do other things and we are not included, it's time to make some choices.
If we spend time worrying about what they are doing and not feeling good enough to be invited or included, we will let some important energy we need for us to drain away.
It's okay to feel and acknowledge those painful feelings, but it's so important not to stay in them. Feel them and let them go.
In order for us to feel good about ourselves we need to keep our energy and not give it away to others by worrying and overthinking. Quite simply we will have nothing left and then sadness, unhappiness, loneliness all these sorts of heavy energy feelings can come creeping in."
So what do we do and how do we build resilience?
We take responsibility for our actions and choices. We think of something that can be done that's enjoyable. Then we do it! Kratu likes to run and have fun outdoors. Being in fresh air and outside in Nature is wonderful! What physical things do you like to do? Kratu likes to do special training, especially scent work where he has to find a hidden special scent, then he gets a reward. What things do you like to do to stimulate your brain? Kratu's mum likes to make lists of things to do that need to be done. She says when you tick off everything in that list it feels great! Especially when its things like tidying up your bedroom and yes even grown ups don't always enjoy that too! But it feels great to get done and then that space is clear and much more enjoyable!
Kratu doesn't think about others and what they do or think of him. He just does the things that make him happy. Seeing him happy often makes others happy as happiness is contagious and touches others too. Find your own happiness. Spread the good vibes, positivity and joy… it will reach others too.
Be like Kratu. Let that flow grow from within!"
special superpower pose by kratu: the tai chi paw pose!
Kratu has offered a magical superpower pose for children to try!
"This pose can also portray a powerful Andean energy technique. You reach up to the light from sun, stars, moon (cosmos) and with your hands or paws catch some and bring it back down all around you and then to touch the earth. That fills you with light wonderful energy and lets any heavy energy disappear into the earth."
How Yoga Helps With Resilience
Thank you for your inspirational words Kratu! We thought parents may also enjoy this article from the Center on the Developing Child at Harvard University on building resilience:
"Age-appropriate, health-promoting activities can significantly improve the odds that an individual will recover from stress-inducing experiences. For example, regular physical exercise, stress-reduction practices, and programs that actively build executive function and self-regulation skills can improve the abilities of children and adults to cope with, adapt to, and even prevent adversity in their lives. Adults who strengthen these skills in themselves can better model healthy behaviors for their children, thereby improving the resilience of the next generation."
Another incredible organisation working to help build resilience in children and teens is Family Support, Hammersmith & Fulham. Learn more about brain building, including the "Resilience Scale" here.
"We also know that we can give kids support early to help them develop coping skills. These skills push the balance point over to one side and make the scale harder to tip negative and able to bear more negative weight and still tip positive. This is what resilience is."
You can read more posts from Therapy Animals Kratu and Sammy from Lausanne Collegiate School in Memphis below!
A Story For When Your Child Is Sad
by Kratu the Therapy Dog, Cambridgeshire, UK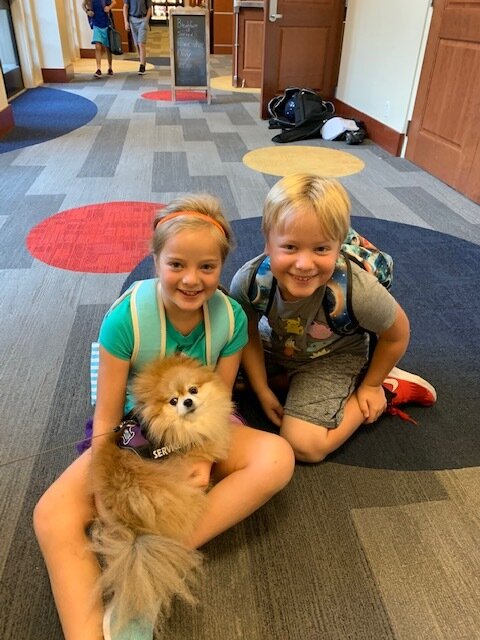 On a Mission To Bring Peace and Joy to Kids
by Sammy the Therapy Dog, Lausanne Collegiate School, Memphis
You can read more about positive self-concept from our Co-founder Jen below:
And finally, we'd love to share this article from Action For Children, "Are You Or Your Child Lonely?" that offers tips for parents:
Thank you for being here… x